About SSFF & ASIA
What is Short Film?
A Short Film can be defined as anything from a film as short as one second, to a longer, more varied length work. For instance, for Short Shorts Film Festival & Asia's Official Competitions, the submission limit is 25 minutes; for the Academy Awards, submissions can be up to 40 minutes; Cannes Film Festival submissions must be within 15 minutes. At Short Shorts, one program runs for approximately 100 minutes, and films varying from 1 second in length to 25 minutes make up a single program. This means that, from a single program, you have the chance to see anywhere between 4 to 15 films. It's up to you to decide whether you'd like to see a program with fewer and longer films, or more films with shorter running times. Come by and enjoy back-to-back screenings of our great programs!
What's an Academy Awards® accredited film festival?
Before the Academy Awards® announce the nominations every February, a large amount of films go through a specific selection process. The Academy does not just offer submissions to anyone and everyone. One of the ways to qualify for nomination is to win an award at an Academy Awards® accredited film festival. The Academy of Motion Pictures Arts and Sciences select nominees from a list of festival winners around the world.
There are approximately 80 Academy Awards® accredited film festivals around the world and Short Shorts Film Festival & Asia is one that is recognized for the short film categories. The grand prix winner has the opportunity to be considered for the short film categories at the Academy Awards® for the following year.
SSFF & ASIA 2016
The 18th edition of Short Shorts Film Festival & Asia (SSFF & ASIA), Academy Awards® accredited and one of Asia's largest international short film festivals, will be held from June 2 (Thu) to June 26 (Sun). This year we received a record number of around 6,000 submissions from more than 100 different countries and regions. With the Rio Olympics this summer, and the countdown to 2020 gaining momentum, we will be addressing diversity via the richness of short film, whilst encouraging cultural exchange through this unique media, all under the banner Cinema Carnival~Explore Your Emotions~. Film commentator LiLiCo will remain in place as Festival Ambassador this year and ensure that audiences are in the festival spirit! In 2015 we received 17,206 festival attendees. This year, with an extended screening period of almost one month, we hope to welcome many more audience members. Approximately 200 films will screen across the seven competition categories and special programs. The film selected as the Grand Prix winner will be eligible for nomination in one of the short film competitions at the Academy Awards® in 2017.
SSFF & ASIA 2016 Theme song
Cinema Carnival ~Explore Your Emotions ~
Cinema Carnival ~Explore Your Emotions~
In four years, we see Japan rising to the ocassion.
SSFF & ASIA vividly expresses the color of each selected film, while as a whole representing a truly diverse selection of the world's best short films.
This year, we bring you an exciting event that reimagines the film festival as a "matsuri," a celebration accompanied by the full vibrancy of a carnival. Join us in transforming the ordinary into the extraordinary through the magical movie-going experience, one filled with tranqulity, passion, and joy.
Artist:PKCZ® feat. Crystal Kay, MIGHTY CROWN(MASTA SIMON & SAMI-T)
This song is inspired by the theme of SSFF & ASIA 2016, which is "Cinema Carnival ~ Explore Your Emotions". As the title suggests, it delivers a strong message about following your dreams and the success that comes with hard work and determination.The song is available on SSFF & ASIA's official website.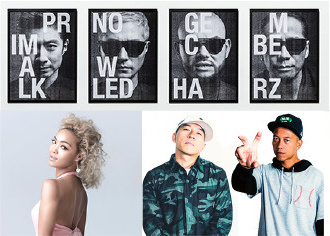 Message
---
---
---
Festival History
This Japan born, Academy Awards® accredited festival is one of the largest film festivals in Asia. The festival was started by actor Tetsuya Bessho, a native of Japan and SAG member, as he wanted to introduce Japanese audiences to short films, which were a format that many people in Japan were unfamiliar with. The first festival was held in the Harajuku neighborhood of Tokyo in 1999, and 6 short films made by George Lucas, known best for the "Star Wars" franchise, when he was a student were screened. Since then we have received an annual letter of support from the director.

In 2001 the festival became known officially as Short Shorts Film Festival (SSFF), and in 2004 was accredited as a qualifying festival for the Academy Awards ®. This means that the winner of the festival Grand Prix is eligible to be nominated in one of the short film categories of the Academy Awards ® the following year, offering a bridge between Japan and the Oscars so that young talents may realize their dreams.

Furthermore, Short Shorts Film Festival Asia (SSFF & ASIA) was established with support from Tokyo Metropolitan Government in 2004, to introduce new Asian video culture and nurture young filmmaking talents from the region. To this day, the two festivals are held together as Short Shorts Film Festival & Asia. Aside from the 3 Official Competitions, there are categories and programs compiled around "music," "environment" and "CG animation" related shorts.

The short film specialist theater Brillia Short Shorts Theater was established in the Minatomirai area of Yokohama in 2008. Also acting as one of the festival venues, the theater has welcomed over 280,000 audience members to date. Whilst the festival expands its activities in Japan in order to spread the word of short film, it will also continue to support young creators and provide a springboard into the world of film.
---
Sponsor
【Short Shorts Film Festival & Asia 2016】
Organizer:Committee for Short Shorts / Co-Organize:r Harajuku Omotesando Keyakikai / Patronag(e Koen):Ministry of the Environment Ministry of Economy, Trade and Industry Japan Tourism Agency Agency for Cultural Affairs Shibuya City / Embassy Patronage(Koen):Embassy of Ireland  Embassy of Israel, Tokyo  Australian Embassy Tokyo  Austrian Embassy  Embassy of the Kingdom of the Netherlands  Embassy of Canad a Embassy of Colombia in Japan  Embassy of Mexico in Japan Emba ssy of Switzerland in Japan  Embassy of Sweden  Embajada de España  The Royal Danish Embassy  New Zealand Embassy British Council American Embassy Polish Cultural and Information Center in Tokyo  Ambassade de France / Institut français du Japon  Embassy of Hungary  Embassy of the Republic of South Africa / Sponsors : Avex Digital Inc. Nestlé Amuse LEXUS Digital Hollywood Co.,L td. Hikari TV SABON Japan OPT, Inc. DJI Japan Tokyo Tatemono Co., Ltd. ANA SEIKO Holdings Corporation antenna* its communications Inc. SHiDAX CORPORATION / Media P artners:J-WAVE, Inc. CONDÉ NAST J APAN TOKYO HEADLINE / Media Supporters:cinemacafe.net Kinema Junposha Co., / SNS Supporter: GRO VE, INC. Translation Support: Japan Visualmedia Translation Academy Co-organizer of Southeast Asia Program: The Japan Foundation Asia Center / Venue Support:iTSCOM STUDIO & HALL Futakotamagawa rise Andaz Tokyo Festival Supporter:MORI Building / War and the Power To Live Program Special Support : International Committee of the Red Cross (ICRC)/Event Parther:Community Development through Entertainment Official Tote ROOTOTE / Supporting Film Festival:Festival du Film Français au Japon
【Short Shorts Film Festival Asia 2016】
Organizer:Committee for Short Shorts Film Festival Asia /Co-organizer:Tokyo Metropolitan Government / Patronage( Koen):Ministry of Economy, Trade and Industry Japan Tourism Agency Agency for Cultural Affairs Harajuku Omotesando Keyakikai / Embassy Patronage( Koen): Embassy of the Islamic Republic of Iran Embassy of the Republic of Singapore Royal Thai Embassy Tokyo Taipei Economic and Cultural Representative Office in Japan, Taiwan Culture Center Korean Cultural Center, Korean Embassy in Japan Embassy of Mongolia in Japan / Supporting Film Festivals:Asiana International Short Film Festival Kaohsiung Film Festival/Project Support:Ibaraki Short Film Award
【National Tour Yokohama】
Organizer:Committee for Short Shorts Committee for Short Shorts Film Festival Asia / Award Project Support:Yokohama FutureCity Initiative / Support: Brillia Short Shorts Theater