SSFF & ASIA 2021 Outline
>

SSFF & ASIA 2021 Outline
Thu, 11th June - Mon, 21st June
*Online Screenings : Tue, April 27th - Wed, June 30th
OMOTESANDO HILLS SPACE O / iTSCOM STUDIO & HALL, Futagotamagawa rise / TORQUE SPICE & HERB, TABLE & COURT / AKASAKA INTERCITY CONFERENCE CENTER, the AIR / LINE CUBE SHIBUYA / Online Screening and others
 * Schedule may change depending on the venue, and venues may also change.
Out of about 250 films from over 120 countries and regions around the world, approximately 6000 titles have been selected to screen at the festival.
*All events and films are subject to change.
Free (※Some events may be charged. )
 *Free ticket reservations for live venue will start at 14:00 on Wednesday, May 12 . Go to " Ticket Information" for details.
Committee for Short Shorts / Committee for Short Shorts Film Festival Asia
About SSFF & ASIA 2021 COVID-19 implementation of measures to prevent the spread of infection
At the SSFF & ASIA 2021, the following measures to prevent the spread of the novel coronavirus will be implemented during the event. We apologize for any inconvenience. However, we ask for your understanding and cooperation to ensure safe implementation.

Requests to our customers

[1] Prior to visiting: Please check your physical condition and measure body temperature prior to visiting. (Persons with a fever of 37.5℃ or higher will not be permitted entry)
If you are within 2 weeks of recovering from the coronavirus, please contact the festival office regarding participation in the festival.

[2] Your body temperature will be measured upon reception, waiting, entry/exit, and arrival at the reception area.
Those who are confirmed to have a fever of 37.5°C or higher will not be permitted entry. Please be sure to wear a mask. (For those who do not have a mask, one will be distributed at the reception area.)
Please cooperate in hand washing and hand disinfection. Upon reception and entry, the staff will request all visitors for hand sanitization.
Observe the cough etiquette while waiting. *When coughing or sneezing, please use a mask, tissue, handkerchief, or sleeves to hold your mouth and nose down.
Please refrain from conversations and speaking out loudly while waiting.
Please cooperate in maintaining a distance among customers while waiting. (Please follow the foot guidance display and wait accordingly)
To ease congestion when leaving the venue, we will limit customers in the back from leaving the venue. Please wait where you are until the staff guides you.

[3] Inside the venue
If you feel ill during screening, or become sick, please do not hesitate to contact a staff member near you. Please wear a mask during screening.
Seats are spaced out to ensure social distance. It is prohibited to move the seats on your own.
As part of the Coronavirus preventative measures, eating and drinking in the venue is prohibited.

Measures by the organizer and staff

The staff will subject to checking their body temperature and physical condition in advance. All staff shall wear masks.
Aerosol prevention sheets will be installed at the reception desk.
Regular disinfection will be conducted with in the venue, such as for doors and reception desks.
In the waiting line, a guidance display will be installed on the floor near the feet to maintain social distancing.
In the venue, we will install a coronavirus infectious disease countermeasure and information board for customers.
Seats within the venue will be separated from each other.
*Please note in advance that the above measures may be subject to change.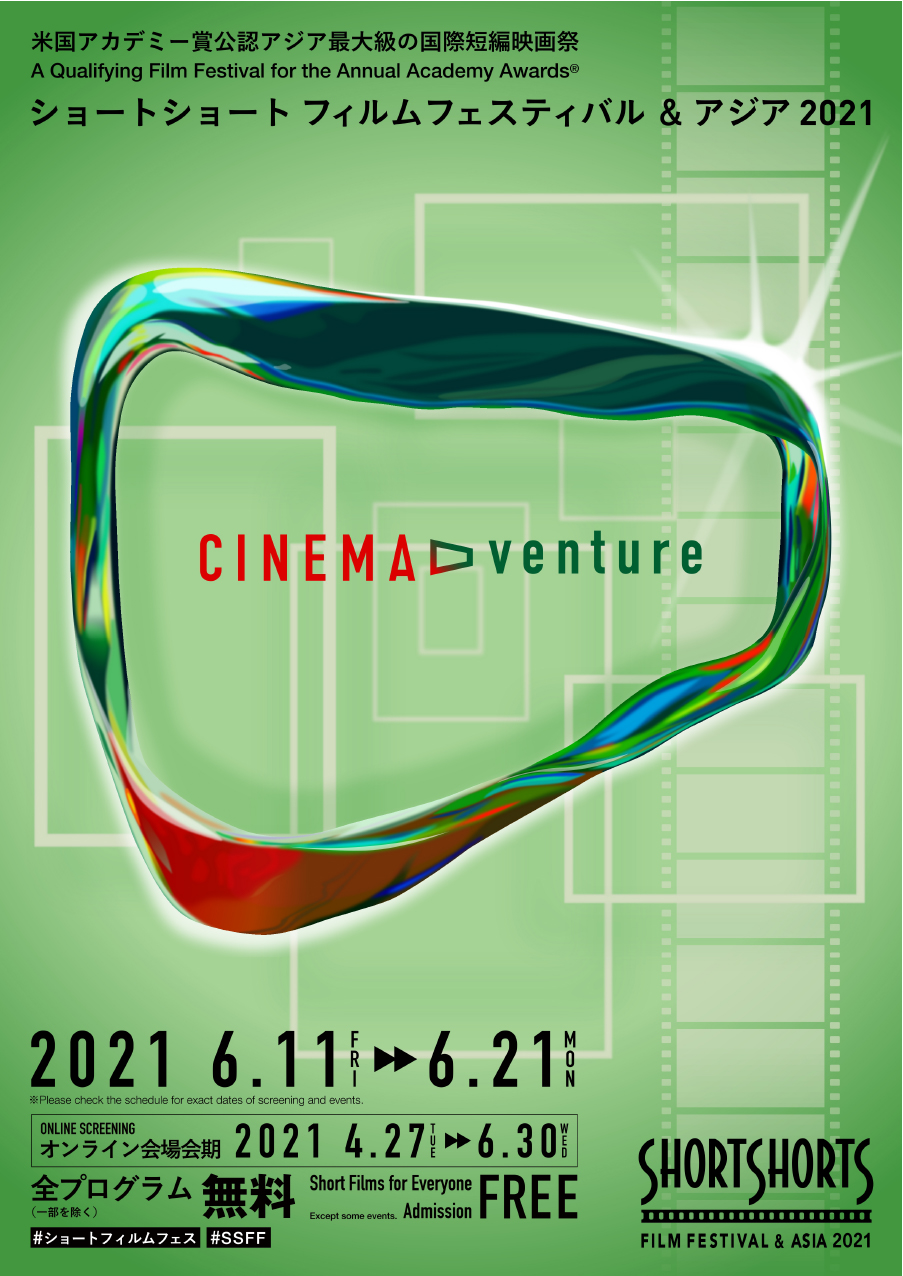 What's in the minds of filmmakers around the world as their films are released into theaters? Together with you, our festival will reflect on this question through this year's theme, "CINEMADventure." In "CINEMADventire," we have combined the words cinema, venture, adventure, and ad as the essence of this year's festival. Short films made with creativity & originality are full of adventure & with a spirit of venture (pioneering and innovation). In recent years, companies and organizations that drive the economy and have an impact on daily life have begun making short films for branding as a new form of advertising. As an international short film festival that connects filmmakers, attendees, viewers, and our supporters with the world, we aim to personify "CINEMADventure."
Short film is a cinematic piece of work that ranges from lengths as short as 1 minute to as long as approximately 30 minutes. For the Official Competition of SSFF & ASIA, submitted works are restricted to less than 25 minutes. Despite its short length, there is a wide variety in these works such as drama, animation, and documentary and many of the stories are rich in wit and cinematic expression that can only be possible given the short length of the piece.
There are quite a few directors who started out their careers making short films such as George Lucas, Francis Ford Coppola, and Steven Spielberg, and there are many short films that have famous actors appear in them as well. Furthermore, short films provide a format that cultivates the talent of up and coming filmmakers, and film festivals are a gateway for their success.
How would you like to witness the possibilities of future filmmakers at this film festival?
Background of the SSFF & ASIA
Actor and member of the US Screen Actors Guild (SAG), Tetsuya Bessho founded the festival in 1999, with the aim of introducing Japanese audiences to short films – a format that many people in Japan were unfamiliar with. In 2001, the festival became officially known as Short Shorts Film Festival (SSFF), and was officially recognized by the Academy of Motion Pictures Arts and Sciences®. In the same year, Short Shorts Film Festival Asia (SSFF ASIA) was established with support from the Tokyo Metropolitan Government in 2004, to introduce new Asian video culture and to nurture young filmmaking talents from the region.
Today the festival is know as SSFF & ASIA. In 2018, commemorating the 20th Annual festival, the Grand Prix prize was renamed, the George Lucas Award. In January 2019, we held our first "SSFF in Hollywood" as part of our 20th anniversary celebrations and winner of the SSFF Audience Award in 2001, director Jason Reitman was sent an Honorary Award.
Also from 2019, a total of 4 winners from the Official Competition (International Category, International Asia Category, Japan Category) and the Non-Fiction Category, would be eligible for nomination to the Academy Awards. Since 2020, the Official Competitions have been supported by the SONY Corp.
SSFF & ASIA continue to support young filmmakers through this festival.
Message from the Governor of Tokyo
Message from the Governor of Tokyo
It gives me great pleasure as Governor of Tokyo to welcome you to the Short Shorts Film Festival & Asia 2021, an event co-sponsored by the Tokyo Metropolitan Government. This year, the Short Shorts Film Festival & Asia (SSFF & Asia) event marks its 23rd year. The festival has grown to become one of Asia's preeminent international short film festivals. In short films, creators brimming with youth and talent depict human beings and nature in condensed form. I am very pleased that this festival has served as a springboard for many talented filmmakers to pursue their careers on the world stage. This marks the fifth year that we will hold the Cinematic Tokyo Competition for films that feature Tokyo as a theme. Like living organisms, cities change every day. With each time this competition is held, I believe that more impressions of the era captured on film by creators from Japan and abroad are brought together, making it possible to show the world the diverse appeal of Tokyo, where tradition and innovation coexist, even more clearly. Continuing with last year's festival, various measures for the "new normal" will again be put into place to prevent the spread of COVID-19. This will include broadcasting the award ceremony live and streaming seminars online. I hope that everyone who takes part in the festival, at the venue or online, will enjoy the charms of short film in various ways and discover a new side of this diverse city—Tokyo. Arts and culture, which enrich our hearts and minds and give us the vitality to shine, are essential to our lives, especially now, as the world faces this difficult test. The Tokyo Metropolitan Government will continue to develop various initiatives, including this film festival, to keep the flame of culture alive even during the pandemic and further elevate Tokyo's potential as a world-leading city of culture. Furthermore, we will lead the upcoming Olympic and Paralympic Games Tokyo 2020 in July to success. In closing I would like to express my deep respect for the tireless efforts made by everyone involved, and extend my best wishes for the success of Short Shorts Film Festival & Asia 2021.
Koike Yuriko
Governor of Tokyo

Message from the President of SSFF & ASIA Tetsuya Bessho
One year has passed since the global pandemic began. Even with the rapid changes in our society, daily life, and values, we received about the same number of submissions as we have in recent years. The filmmakers were continuing to make short films despite the hardships & difficulties. Cities under lockdown, dramas filmed in one room, editing a film with footage from remote shootings, and the sense of isolation & solitude. As we looked at the work, we could see the "CINEMA" created during the pandemic as only short films can and we received the heartfelt messages of the filmmakers loud & clear. I would like the film festival to be a place of "ADVENTURE" where we can experience and share together the world as it is NOW as a the place that shows the possibilities of new images with online and virtual venues, shooting and editing with smartphones, and vertical images as "VENTURE = new challenges," as well as opportunities for art and culture to play an active role in society by creating new communication methods as "AD = advertisements" through short films that have drawn the attention of companies and organizations. We are excited to bring to you our "CINEMADventure" film festival.
Message from Festival Ambassador LiLiCo
I hope that new creators and lovers of feature-length films will once agan dive into the world of short films this year. In these trying times, more people are making films & visual content. I look forward to being dazzled again by innovative ideas and the appeal of short films where you can experience the culture and aromas of various countries and regions.No limites or rules except for the running time! Expand your senses stimulate your mind through short films. I'm very excited again this year♡

Profile: Born in Stockholm, Sweden in 1970. Moved to Japan when she was 18-yrs-old & began her career in entertainment in 1989. Beginning with the "King's Brunch" show as a film reporter on TBS, she became a regular on many shows including Fuji-TV's "NONSTOP," J-Wave FM's "All Good Friday" in addition to appearances at events, animation voice acting, narrations, & acting. In 2011, she was awarded the Distinguished Service Award from the Nail Queen Association & the Best Jeans Award in 2013 making a name in fashion with her original designed handbags & jewelry.
SSFF & ASIA Social Media Navigator
SSFF & ASIA 2021 will expand its online screenings this year. We welcome our official SNS media navigators of the film festival so that more people in Japan and abroad can enjoy the film festival with a guide to the appeal & attraction of the selected short films! If you're overwhelmed by the many short films to choose from... You can check the informed recommendations of our navigators!
Online talk event with Twitter Japan & Social Media Navigators will be held on Tue, June 8th!
*this event is only in Japanese

【Short Shorts Film Festival & Asia 2021】
©︎ 2021 Short Shorts Film Festival & Asia.