[6/12 Sat venue report] Omtesando Hills Space O 1st day
On the first day of screening at Omotesando Hills Space O, 4 nomination films for the Asia International and Japan Program were shown: Tilapia directed by Jin An Hung, Among Four of Us by Mayu Nakamura, Were the Sun and the Moon to Meet by Nadira Ilana, and Wish on a cocktail by Shinya Kawakami.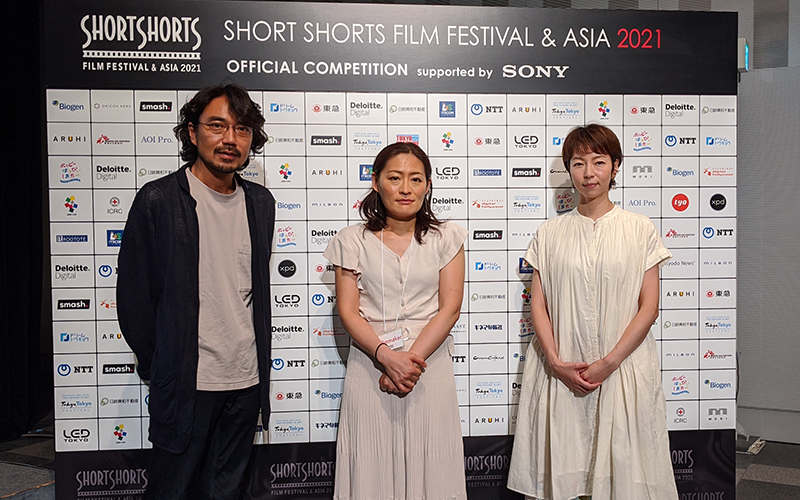 After the screenings, Ms. Mayu Nakamura (director of Among Four of Us), Mr. Kohta Kusano and Ms. Nahana (casts of the film) appeared on stage and told us about the struggles they have experienced while shooting the film amidst the pandemic, and also the good aspects they have discovered such as how they were able to to shoot the film within a short amount of time since the crew was small. Director Nakamura told us about the filmmaking process as well as how she came up with the theme of solitude and connection between people. Mr. Kusano mentioned how he realized the importance of in-person meetings with crew members and other casts during the shooting, as well as the potential of short films in the future. Ms. Nahana expressed her appreciation towards the fact that the film was able to be seen by an actual audience in a theater. Director Nakamura also revealed during the session how she is planning to make a series out of the film, so we can look forward to more sequels in the future.
Mr. Shinya Kawakami (director of Wish on a cocktail) and Ms. Chie Tsuji (cast of his film) also took the platform after the screening. Wish on a cocktail is the second time the two have collaborated, ever since Ms. Tsuji performed in his 2018 film A Can of Peach. Ms. Tsuji told us about her thoughts on the screenplay , as well as how she felt emotional when watching the film for the second time at the venue. She played the daughter role of Mr. Jun Kunimura in the film, and she shared us about their interactions during the shooting. Director Kawakami spoke about how he wants the film to be seen by a wide range of people, and how he wishes the pandemic to settle so everyday life can go back to normal again.
More nomination films for the Asia International and Japan Program and CG Animation Program will be screened tomorrow at Space O.
Please visit and enjoy the festival!