[6/13 Sunday Venue Report]
6/13/ 17:50~/ @ Omotesando Hills Space O
Directors, cast, photographers and other guests attend the screenings!
Space O @ Omotesando Hills – Day 2!
Asia International & Japan Program 4 was screened at Omotesando Hills Space O at 17:50. The program features shorts from Asia & Japan. Five films were screened, including shorts from Japan and Taiwan with themes ranging from drama to animation. For the post-screening Q&A, directors and cast from three films participated and talked about their respective films.
Director Hirabayashi brought young Makoto Kimura who plays a young child in "6 Legs." Director Hirabayashi said that the populism
movement of the last few years was where the idea for the story came from. Child actor Kosei Kimura told the audience that he could have been a little better. A true professional!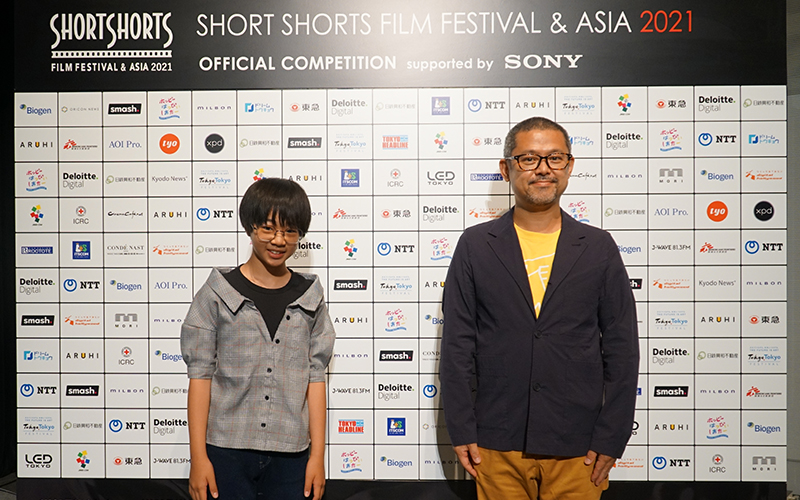 For the third film in the program, "Father & Daughter," director Miyuki Uehara brought 2 actors, Yuya Takakawa and Konosuke Furuya. The short explores the relationship between father and daughter and what happens around Father's Day.
And finally, from the fifth short film in the program, "Tsurezure Kankan," which depicts the relationship between a tight-lipped brother and his sister's fiancée. Food plays a big part in the story when they are forced to make a family staple, inari sushi, for their evening meal.
Tomorrow, June 14th, will be the last day of the screenings at Space O in Omotesando Hills.
Come join us!