【June 17th SSFF & ASIA 2022_Daily Report】@iTSCOM STUDIO & HALL
2022.06.17
Hi all.
Our 2nd day at Itscom Hall in Futako Tamagawa began with the International Program – 7 which features short films from Canada, Palestine, Ukraine, Spain & Australia with a very wide range of themes & stories. We were fortunate to have 2 directors join us on the internet for a post-screening Q&A.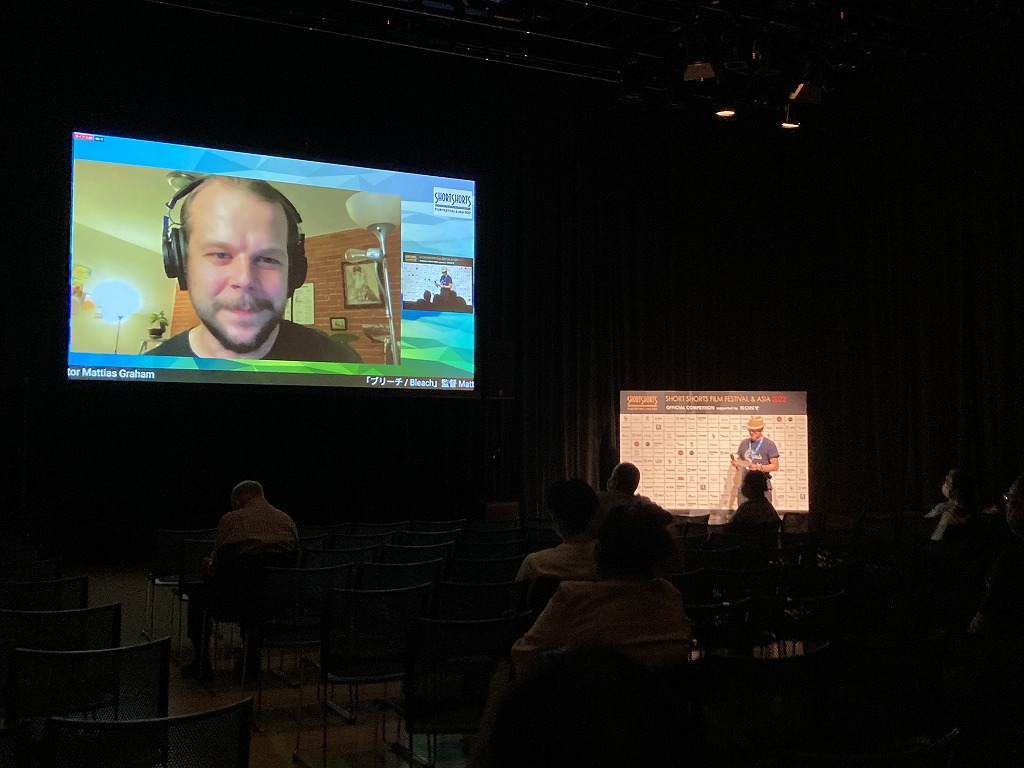 1st up was director Mattias Graham in Canada to talk about his film "Bleach," a story about a young boy & his difficult days following a traumatic abuse at the hands of his swim coach. He was very smart in casting the young Jacob Whiteduck Lavoie as the lead character Damien. Mattias told us how he had shot some underwater footage in a pool & how he used that base for the setting of his story to depict how a young boy must feel as he's drowning in guilt & doubt & fear.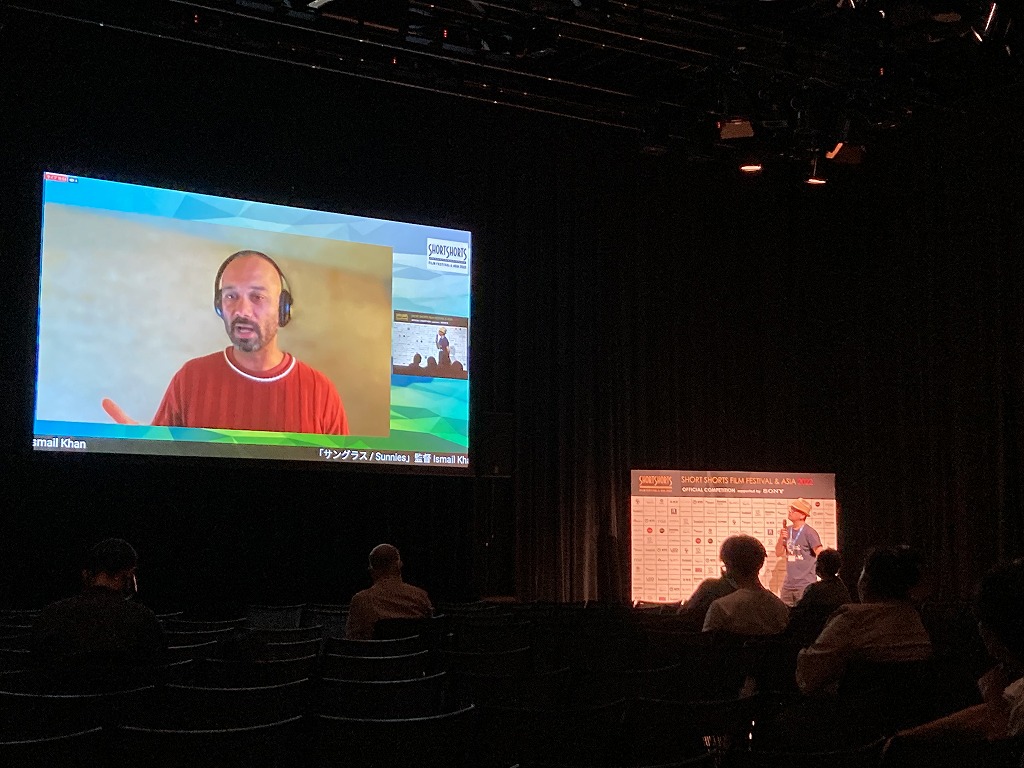 Our 2nd guest from this program was director Ismail Khan from Australia for his film "Sunnies." The lead character Malcolm, played by the excellent young actor Malaki Williams, purposely has himself recorded shoplifting a pair of sunglasses on the shop's video security system. The police track him down to his house & the big reveal comes. Ismail's very good direction keeps is simple & lets the story do all the work. Both directors are working on a treatment or script for a feature & we certainly will look forward to more great things from these very talented filmmakers.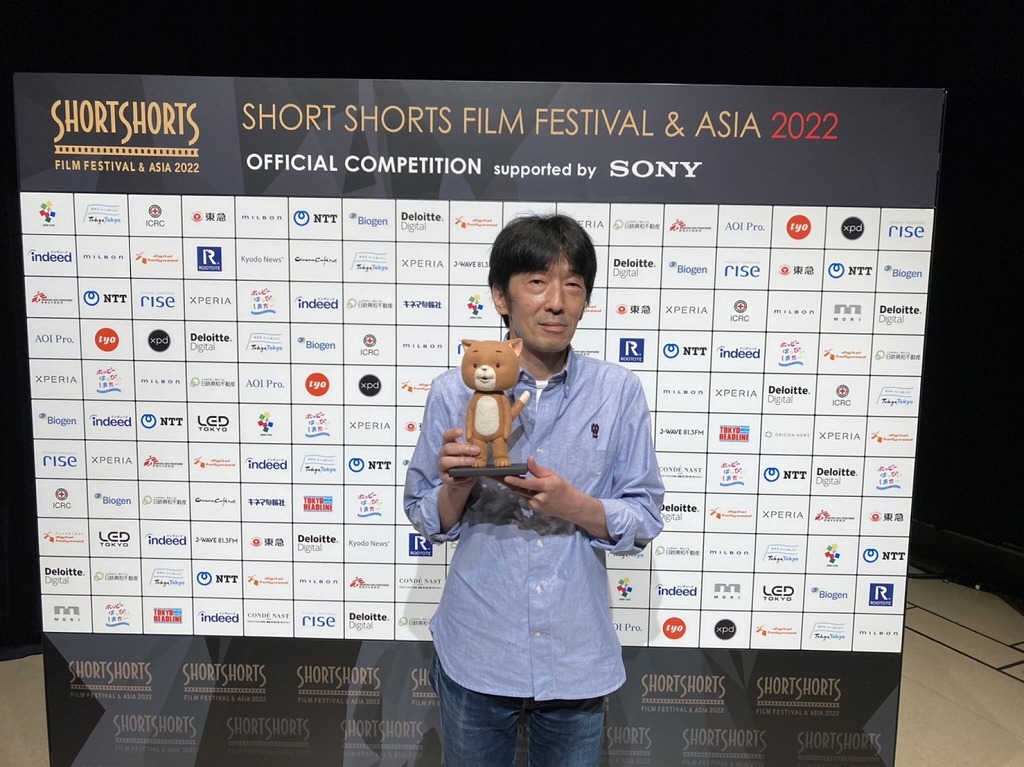 Our next program was the "Kids" program with 12 animated shorts from around the world geared for kids small & big. We were very fortunate to have director Tsuneo Goda attend to talk about his 2013 stop-motion anime "Komaneko – Home Alone" which was Special Screening at the end of the program. Director Goda is the creator of the very popular Domo-kun, the mascot for the public broadcast channel NHK. He is also the director of the hugely popular Komaneko series which has been a long-run big hit in France.
His stop-motion is a time-consuming, painstakingly made animation film & he drew from his own experiences as a child who occasionally had to stay home alone. He told the audience that it took about 3 months to shoot this 7:33 film. 
Next up was Asia International & Japan Program – 9 which featured films from Malaysia, China, Iran & Japan. The post-screening was a lively affair with the very cool director & cast for "Kung-Fu Skateboard," a wild action-comedy with Chinese food, kung-fu & skateboard riders in the heart of Chinatown in Yokohama, the biggest Chinatown in Japan. Director Shoyo Miyao told us that he had the support & cooperation of the Chinatown Association to allow him to shoot on location & use a real Chinese restaurant. He brought along his cast which included pro snowboarder Daisuke Watanabe & pro surfer & actor who has appeared in Beat Takeshi's films.    
Our final program of the day was the Cinematic Tokyo Program. The Cinematic Tokyo Competition was established in 2017 & called for short films from around the world that showcased the appeal & draw of Tokyo. For this screening we had 4 sets of guests for the Q&A.
Director Yutaka Tsunemachi & Producer/Actor Hiroki Sato for the film "On the Way." The film is an existential story about an actor arriving in Tokyo to make it in the big leagues & his wandering through the city with his alter-ego. Sato found the funding for the film which he wanted to make as a show reel for his acting career. Excellent use of many locations throughout Tokyo which they filmed with minimum crew.
Director Katsuhiko Mori talked about his eerie but brilliant short "Silence in Tokyo." Mori spent many long nights during Japan's 1st Covid lockdown when the people of Japan actually stayed in & he wandered the streets of Tokyo filming on his gimbal. The film is a series of street scenes at night in Tokyo with ZERO people. Something that I've never seen here. The film is rounded out in a sublime fashion by the piano playing of H ZETT M (formerly of Pe'z) on a building roof & scenes of popular actor Tsubasa Honda looking out over a deserted Tokyo.
Next up was director Yoko Higuchi & his DP Chester Law, both who are from New York but managed to get here for the screening of their film "Alien in Tokyo." This existential film about an "alien" wandering the streets of Tokyo is perfect for Covid age Tokyo. Everyone's wearing masks anyway so everyone looks like an "alien." They kept things minimal, shot in an exquisite & effective B&W & still managed to show a truly "alien" Tokyo. Nicely done!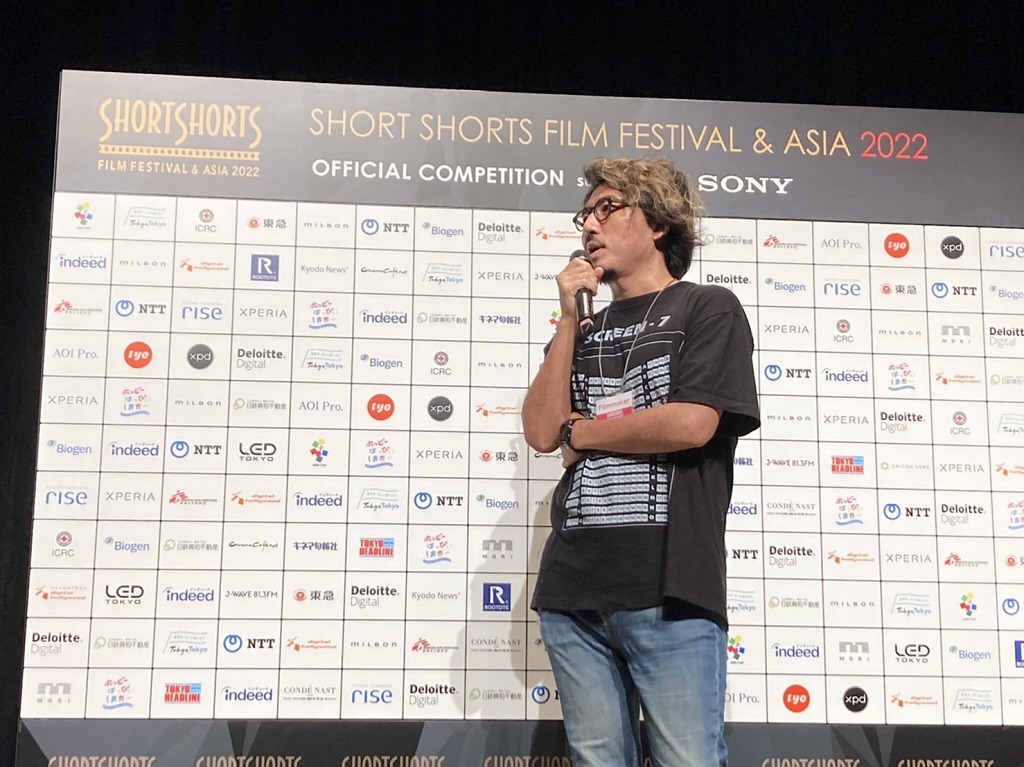 Our final guest was for the Special Screening of "Samurai Swordfish," part of a joint collaboration, the "Cinematic Sports Project" between the city of Tokyo & our festival. Director Hiroki Horanai is an award-winner (Cinematic Tokyo Competition) for his 2018 short film "Tokyo Comet."
This time-travel story about a samurai who finds himself in modern Tokyo & finds himself & learns about "bushido" through encounters with para-athletes. The film features Japanese acting legend Hiroshi Fujioka, his son Maito & World Champion para-swimmer Keisuke Kawahara, Paralympic Gold Medalist Keiichi Kimura, Paralympic swimming gold medalist, Takayuki Suzuki.  
So our 2nd day here at Itscom Hall in Futako Tamagawa saw good crowds & many guests to participate in our post-screening Q&A's. Screenings start tomorrow, Saturday 10/18, with the Kids Program at 11:20 followed by the Asia International & Japan Program 10. Come out to the 'burbs for a day of the best short films from around the world.
See-ya
DJ John      
SSFF & ASIA 2022 Official Competition Sponsor