Creative partners, the AOI TYO Group, state their purpose "Making the world into a brighter place through the power of creation." We are developing a wide range of content production and communication design business in Japan and abroad. In addition, as a company with overwhelming strength in advertising video and film production, we are engaged in providing opportunities for young filmmakers.
dwarf studios
We will introduce and screen 4 popular short animation films from the stop motion animation studio "dwarf studios", which produces numerous characters and stop motion animation contents, including the NHK character "Domo" and "Komaneko", which is long-run hit in France. dwarf studios is highly recognized in both Japan and abroad for its video contents with outstanding stop motion animation techniques as the animation content production division of xpd Inc. which handles communication design. dwarf studios seeks to collaborate not only with original product but also with various popular characters and content.
Movies
Screening will start on May 5th, Thursday in the Online Grand Theater!
"KOMANEKO ~ The Curious Cat~ Real Friends"
Onlineonly
Animation Japan/30:29/2006 © TYO/dwarf・Komaneko Film Partners
While out on a picnic one day, Koma encounters a strange creature. Naturally, she is quite startled at first, but after she realizes that it returned a stuffed toy that she had lost, Koma is no longer afraid of the strange creature. This wonderful episode shows the importance of being oneself and not judging people by their appearance.
Komaneko, Home Alone
Online + Venue
There will also be screenings at Futako-Tamagawa Rise, ITSCOM STUDIO & HALL!
Animation Japan/7:33/2013 © TYO/dwarf・Komaneko Film Partners
A fine day. Ojii leaves Koma alone at home. While Ojii is worried, Koma is a little excited, wondering if Ojii will be happy if she behaves nicely. In time, it begins to rain and thunder. And finally the light goes out. Koma, scared, shivers and something is behind her…! Can Koma go through this situation?
Mogu & Perol
Onlineonly
Animation Japan/8:32/2018 © dwarf
Whenever Mogu is cooking, Perol just pops up and eats the yummy meal. One day Perol finds a very tasty looking Brrrr-berry that Mogu was about to pick. Perol doesn't wait for a second to taste it but…
TO & KYO
Onlineonly
Animation Japan/4:04/2017 © dwarf
Downtown Tokyo, Yanesen. Two petit-demons "TO" and "KYO" are doing tags in the narrow alley with full speed. For them, this city has been their playground for centuries since Tokyo was called "Edo". They have been playing with their spell, picking randomly on a passerby. Their tricks could be a reason for sudden strange changes that happen in the city or in your mind!
Director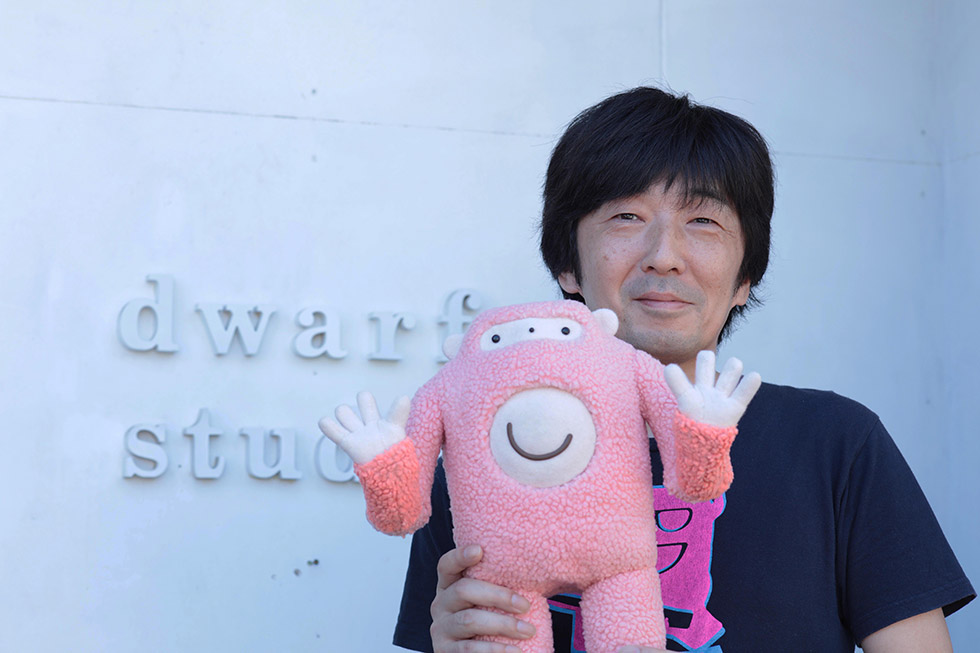 Tsuneo Goda
xpd dwarf studios Director / Character designer. Born in Tokyo in 1967. After graduating from Japan Academy of Moving Images in 1987, Goda worked for Dentsu Tec Inc. until 1990. After 6 years of freelancing, he joined the Creative Department of TYO Productions Inc. in 1996. He established dwarf in 2003, and became an animation creator. His creative activity ranges from creating animations such as "Domo" and "Komaneko", and to illustrations and picture books.

AOI Film Craft Lab.
In 2020, AOI Pro. launched AOI Film Craft Lab., an online community that enables students and fledgling creators across Japan to learn about filmmaking from professionals. Through AOI Film Craft Lab., we engage in education, providing people with a place to learn and opportunities to connect with the film industry. We offer practical content, including seminars and workshops led by top creators in the field, the experience of shooting commercials on set, and opportunities to produce music videos for famous artists.
AOI Film Craft Lab., SSFF & ASIA 2022 Special Content
AOI Film Craft Lab. holds a talk event inviting Japan's top directors, advertising creators, and music video filmmakers. They will discuss their methods and philosophy of filmaking through their extensive experience and knowledge cultivated in the field. Here's a peek at the talk event!
Talk event with film director Miwa Nishikawa / Theme: "Movies and Novels" (2020.11.7)
Miwa Nishikawa
Born in Hiroshima, and a graduate of Waseda University, Miwa Nishikawa was first discovered by Hirokazu Kore-eda. After working with many veteran directors, she made her directorial debut with WILD BERRIES(2003). Her second film, SWAY (2006), was acclaimed at Cannes Film Festival, and her third film, DEAR DOCTOR (2009), her fourth film, DREAMS FOR SALE (2012) were released. Her film, THE LONG EXCUSE (2016) , co-financed and produced by AOI Pro., was released in Asia and Europe. In 2021, UNDER THE OPEN SKY, co-financed and produced by AOI Pro., has won the Best International Feature Audience Choice Award at the 56th Chicago International Film Festival and the Lena Sharpe Award for Persistence of Vision at the 47th Seattle International Film Festival. It won for outstanding Japanese movie of the 76th Mainichi Film Awards.
She has published a novel adapted from the screenplay of SWAY (2006), and nominated for the annual Mishima Yukio Literary Prize, and a spin-off book to DEAR DOCTOR (2009), nominated for the Naoki Literature Prize.
AOI Film Craft Lab. held a talk seminar at SSFF & ASIA 2021, "The Road to Film and CM Directors – My Message to You."
The TYO Student Movie Award
The TYO Student Movie Award is held by TYO Inc., which has a proven track record and expertise in the production of a wide variety of video contents, such as TV commercials and online videos, and has produced many commercial and film directors. The theme for the 1st TYO Student Movie Award was " Run." The 2nd theme was "Find." Festival President Tetsuya Bessho participated as a special juror to select the best 60-second short films created by the students. * Taking into account the situation with Covid-19, we are still in consideration of holding the event in 2022. The schedule will be announced on our official website as soon as the details have been decided upon.
SSFF & ASIA 2022 Official Competition Sponsor