【June 16th SSFF & ASIA 2022_Daily Report】@iTSCOM STUDIO & HALL Futakotamagawa rise
2022.06.17
Hi all.
We're back! Our 1st day back after a short break & we have returned to suburban Futako Tamagawa by the river for our final 4 days of screenings at Itscom Hall in the  Rise Shopping Mall.
We started the day with the Asia International & Japan Program 7. This program featured 4 shorts from the Singapore, S. Korea, & Japan.
Director Hiroyuki Ohmi brought his 2 excellent lead actors, veteran actress Mariko Akama & up-&-coming Elisa Yanagi as mother & daughter respectively.
Director Hiroyuki also wrote & edited this story about a mother who goes missing-in-action from the family home when her daughter suddenly appears & tells her parents that she's getting married. Mariko portrayed the mother perfectly as she sits at an overlook having a smoke & a drink while she ponders the passing of time & life.
The director told us that they had 4 days to shoot & had a lot of production support from the city of Kiryu in Gunma Prefecture. A city that's very active in film production.
Our next set of guests come out for the post-screening Q&A of the film, "THE LIMIT – "Taxi Girl." The film is a Hulu (subscription movie channel) production & they sponsor a series of films with 1 setting or location & invite young directors to give them a shot at making films with good production values. The story of 2 very unlike sisters who confront each other & a dying mother in the closed space of a taxi that the younger sister drives. Well-acted by Kotone Furukawa & Mugi Kadowaki. The most astonishing thing about this character & script driven drama is that this is a first film for director Masaya Yoshida. Definitely a director to look forward to.   
Next up was International Program – 6 which featured films from the UK, Ukraine, Finland & the U.S.
We were very fortunate to have director Anastasia Babenko join us for the Ukrainian film "Diaper Cake" via the internet. She is now in Seattle but returned to the Ukraine several years ago to be with her sister as she gave birth.
She happened to have a camera with her & filmed the occasion. When she returned to the States & later reviewed the footage, it made her realize that she had the seed for a an intimate, loving film about a young couple going through the birth of their 1st child. She got 2 very talented actors, Hannusya Yarmolenko & Liubomyr Valivots as the young couple & shot it in an actual maternity ward in Kiev & had to take ultra-high precautions as there were real babies in the ward during the shoot! She expressed her appreciation to the Japanese audience for their continued support for the people of Ukraine.    
We ended the day with the Asia International & Japan Program 8.
Our 1st guests for this program were director Toshiyuki Ichihara & actor Hajime Sakai. Director Ichihara also wrote the script for this family story about a father who goes through his morning completely ignored by his family. They go through breakfast, preparations for their day at school or work almost as if he isn't even there. And that's the key to this intriguing film. The director does such a great job
in directing this one-take short film & the film is so well-written that when I took a raised-hands survey of the audience, it was about 60-40 whether the father was a ghost or was just a completely ignored non-entity member of the family.
Hajime Sakai, who played the poor father, said the biggest challenge was that he no dialogue in the film & he & the director spent one day rehearsing & talking over the role. Director Ichihara did such a great job with rehearsals that they were able to complete the one-take shot in 3 attempts. 
We hooked up via internet with director Jared Lee in Malaysia to talk about his excellent sci-fi short "Influencer." He wrote this story about a young girl who great lengths to become the popular girl in school by bringing up her "like" count on her SNS accounts after reading about this increasing modern "problem" of young people going to extremes to raise their presence & popularity on SNS. This futuristic film has a Blade Runner-ish look especially in the narrow street of shops that the girl goes to. Director Lee told us that they created that street in an underground parking lot. Great job. He also told the audience that the day is not far off when humans will be taught human values by AI androids! Jared is now shooting a family-comedy TV series.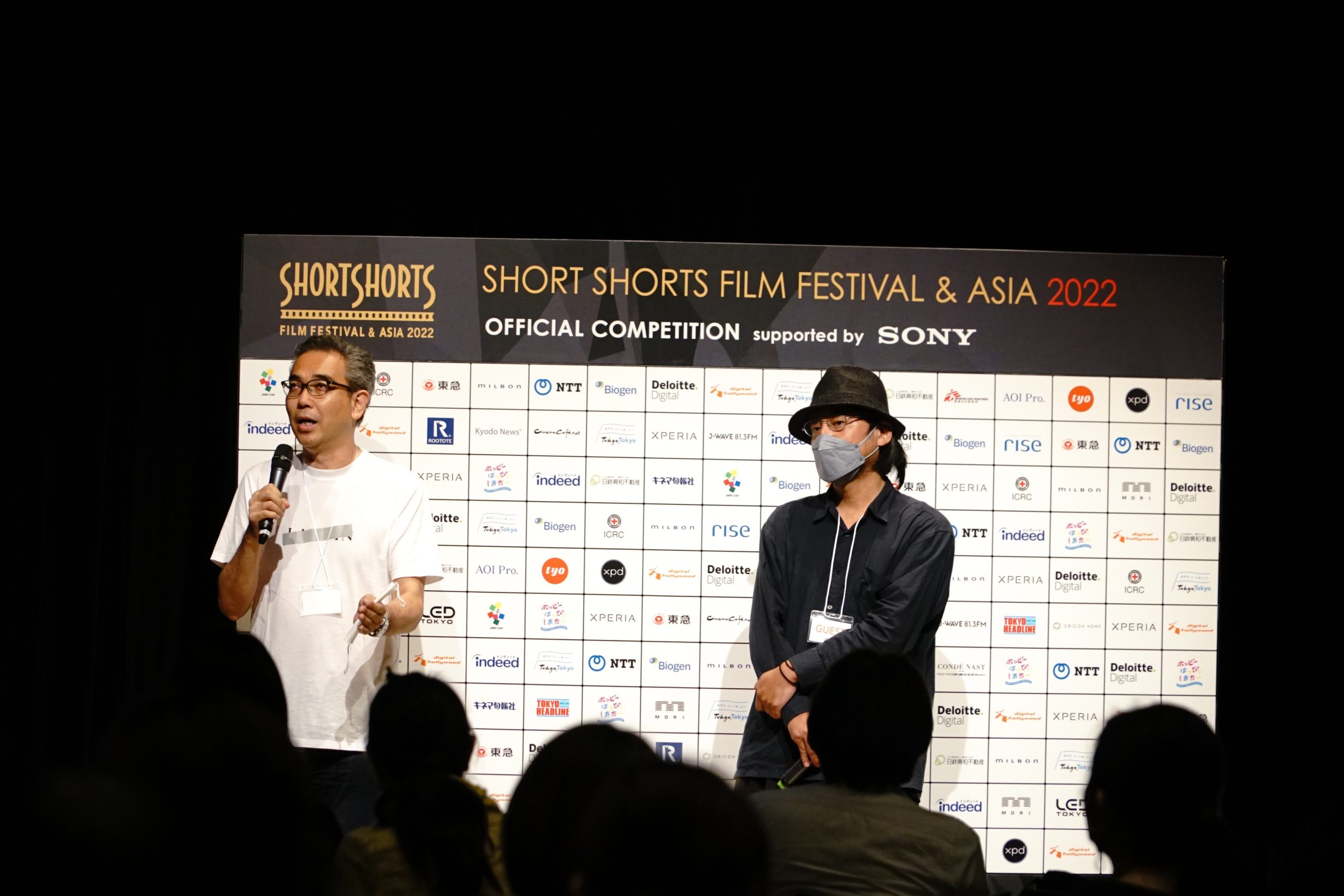 Our final guests were the 2 producers from the WOWOW (major satellite subscription channel) series "Actor's Short Film Project." Now in its 2nd year, they produced 5 short films directed by young actors to give them a chance to direct. The directors had to follow 3 basic rules. They were given 2 days to shoot the film, they had to make an appearance in the film themselves, & all had equal budgets. It's been truly astonishing to see the quality of the short films that these young actors made. Today's short film "Sparklers," was written & directed by Yudai Chiba who co-starred with Sairi Ito, a young, up-and-coming actress. This story of longtime best friends who go on regular camping trips & their unrequited love is a showcase for Sairi who is simply magnificent & the writing abilities of Yudai. I highly recommend this short for watching online & is my top pick from the Japan Competition solely on the performance by Sairi. 
So that's it for our 1st day here at Itscom Hall in the suburban Tokyo city of Futako Tamagawa. Screenings start tomorrow Friday 10/17 at 11:20 for the International Program 7. Hope to you here.
DJ John      
SSFF & ASIA 2022 Official Competition Sponsor