SSFF & Asia 2023_Daily Report_0623_Space O
2023.06.24
SSFF & Asia 2023, the 25th Edition. We are now back for Day 2 at Space O in the Omotesando Hills shopping & dining complex right next to Harajuku. We're already seeing great turnouts & it's so gratifying to see not only our audiences but also the filmmakers, especially from abroad come out to participate.
We started the day with the International Program 5. Another diverse program with shorts from Cuba!, Jordan, Australia, France & Norway.  
Directors Erica Long & Cristobal Olguin were on hand to talk about their short "The Pool." The story is told from a very unique POV, the pool. Erica told the audience that the inanimate, static objects of a house see so much of what we only see transitionally. They filmed in "reverse" timeline with a neglected, murky, dirty pool transforming into a sparkling clean place for friends & family to meet, gather & live their lives.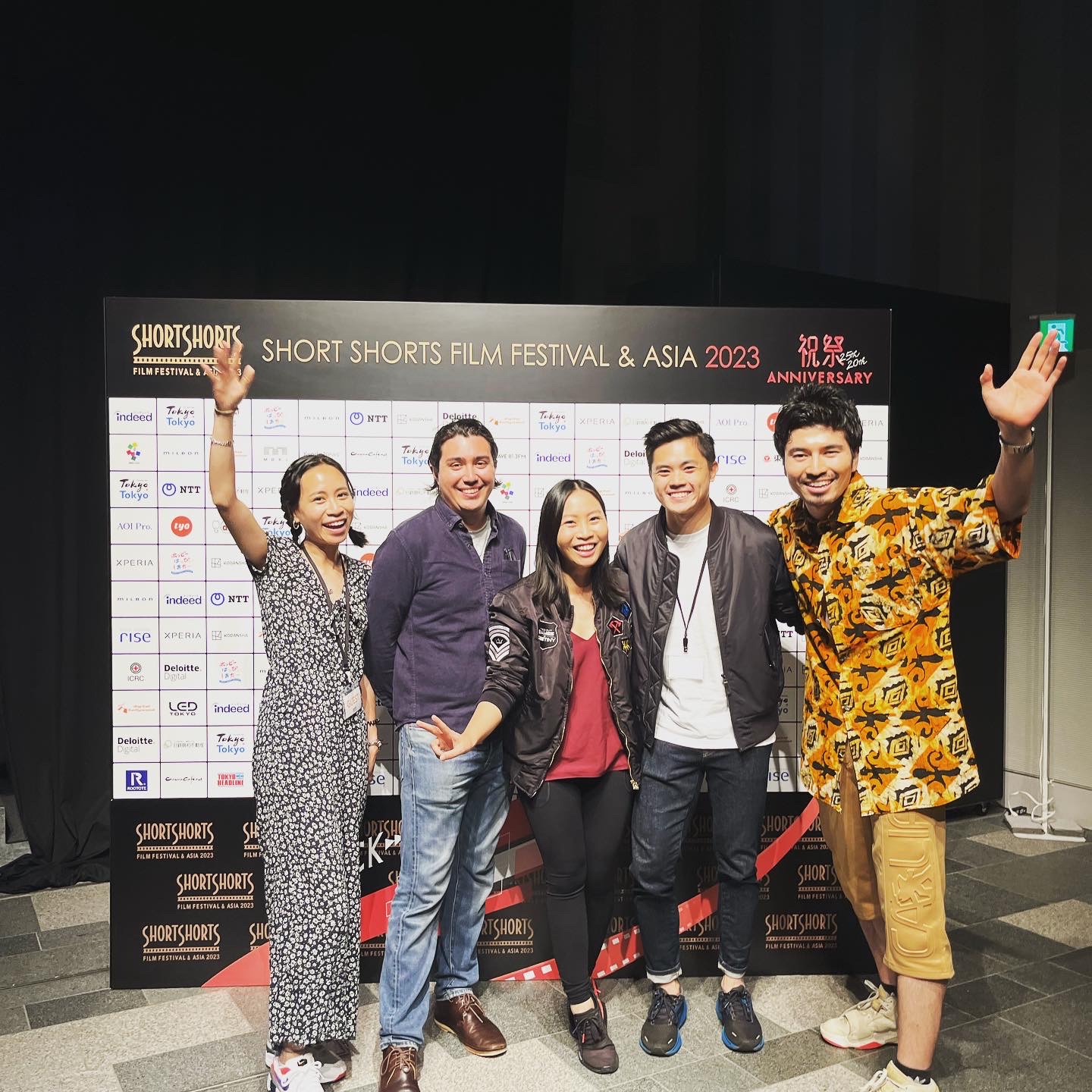 Animation Program 2 followed with guests Tim Main, director of "Black Wing" from Australia to represent his stylish animation about a cormorant! Also on hand was Steph Cheung for "Everywhere." The story of 2 cats, friends & partners for life & how they live through their cycle of life was made geared towards children to teach/show about life & death in a gentle & entertaining   
way. The 2rd guest for this program was Toru Masuyama whose striking "Parking Area" is a surreal journey by a woman who stops at a rest area & finds herself drawn into another dimension of a vast & dreamlike landscape of modern buildings & structures. 
Next up was Asia International & Japan Program 7 with 2 sets of guests. Director Hiroyuki Nishiyama brought along his 2 starring actors, Kotaro Inoue & up-and-coming actress Misaki Hattori. The story of a teenage daughter trying to cope with the loss of her mother & her stoic, tofu maker father is a return to classic Japanese film style with static cinematography & emotions told through flashbacks & the minimal show of emotions through glances & subtle physical reactions.   
Director Tsuyoshi Takamura came out to represent "Scabiosa," the story of a young high school student who wrongly faults herself for the internet trolling of a classmate that led to a suicide.    
For International Program 6, Henrik Zwart came out from Norway with his short "Everything At Once." This cool film about a petty (dumb) criminal & his "memories" of events that lead up to a spectacular car crash is told on a split screen style. When I asked him where he got the idea to make it in this style he named influential master director Nicolas Roeg as his inspiration.
There were 3 sets of guests of the final program of the day, Asia Internationa & Japan 8.
You can check out these Q&A's for more detailed talks on our Youtube channel.
Another full day of screenings tomorrow! Weekend in Harajuku/Omotesando!
DJ John
Organizer
Co-organizer
Patronage (Koen)
Translation Support
Award Project Support
Event Special Support
Support
Support