Creative partners, the AOI TYO Group, state their purpose "Making the world into a brighter place through the power of creation." We are developing a wide range of content production and communication design business in Japan and abroad. In addition, as a company with overwhelming strength in advertising video and film production, we are engaged in providing opportunities for young filmmakers.
The TYO Student Movie Award
The TYO Student Movie Award is held by TYO Inc., which has a proven track record and expertise in the production of a wide variety of video contents, such as TV commercials and online videos, and has produced many commercial and film directors. The theme for the 1st TYO Student Movie Award was " Run." The 2nd theme was "Find." The 3rd theme is "Dance." Festival President Tetsuya Bessho participated as a special juror to select the best 60-second short films created by the students.
The 3rd TYO Student Movie Award / Gold Winner
Tribe X
OnlineOnly
Animation / Japan / 1:00 / 2023
The story is about a gang of Guro tribes in Cote d'Ivoire who resolve their conflicts peacefully through dance. Using the culture of the Guro tribe (festivals, dances, masks, etc.) as a motif, this CG work combines the street culture that has developed out of poverty with surrealist thought.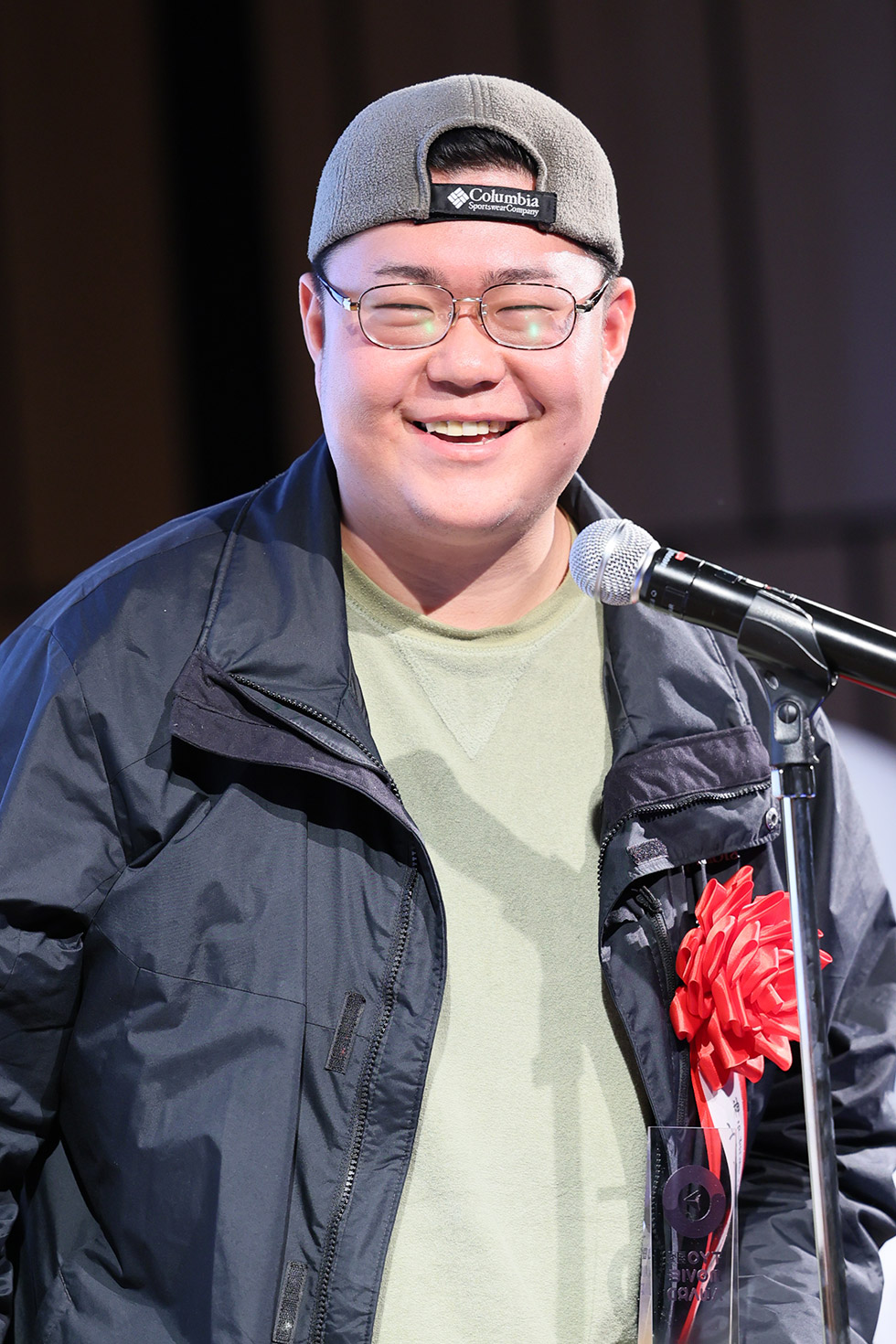 Director
Rintaro Uekawa
Lives in Amagasaki City, Hyogo. A student at Kobe Design University.
The 3rd TYO Student Movie Award / Silver Winner
Palm
OnlineOnly
Experimental / Japan / 1:00 / 2023
A watchman gets into a rhythm by making a girl dance. But in fact, the girl is leading the watchman into range of an allied sniper. This work is a cross between "dancing" and being "made to dance" in the palm, between physical "dance" and psychological "dance."
Director
Shoya Kashiwai
Currently enrolled in the Visual Arts Course in the Media Information Department of the Faculty of Media Studies at Josai International University, he loves commercials and aims to become the best commercial producer in Japan in the future, who can also focus on creativity.
dwarf
We will introduce and screen 2 popular short animation films from the stop motion animation studio "dwarf studios, " which produces numerous characters and stop motion animation contents, including the NHK character "Domo" and "Komaneko," which is long-run hit in France. dwarf studios is highly recognized in both Japan and abroad for its video contents with outstanding stop motion animation techniques as the animation content division of FIELD MANAGEMENT EXPAND Inc., which handles communication design. dwarf studios seeks to collaborate not only with original products but also with various popular characters and contents.
Movies
Screening will start on April 27th, Thursday in the Online Grand Theater!
Domo-kun and the Egg
Online + Venue
The film will also be screening at Futakotamagawa Rise Studio & Hall!
Animation / Japan / 5:04 / 2005
Domo©NHK・TYO
Domo Animation©Domo Production Committee.
One sunny day, little Domo races cheerfully through the meadows. Suddenly, he stumbles upon a strange egg at the foot of a large tree. Had it fallen out of its nest? When Domo takes the egg home, Usaji disapproves of keeping it. But Domo's determination finally wins out and Usaji allows him to keep it. Domo dreams of a little baby bird hatching and learning to fly – After all, isn't that what Domo saw on TV? Day after day, he keeps the egg warm. Finally, the day comes when the egg starts to crack. But when the cute baby emerges, it is a baby…
Director
Tsuneo Goda
FIELD MANAGEMENT EXPAND Inc. dwarf studios Director / Character designer. Goda started his directing career with TV commercials. Developing "Domo", the character for NHK (Japan Broadcasting Corporation), led him into the field of animation. He established dwarf studios in 2003, whereby he became a creator of animation. Goda displays his talent not only in animation, but also in illustration and in books for children. His artistic philosophy is to visualize what he feels and experiences in daily life through puppet animation, in which even the unrealistic is possible.
His most notable character to date is "Domo", whose TV series (2'×26 episodes) was broadcasted on the world's most watched children's channel, Nickelodeon in 2008. By now, it was aired in more than 170 regions worldwide.
While "Komaneko" series, which are one of his most outstanding works, are shown and highly praised at the various film festivals all over the world, "The Curious Kitty & Friends" participated the pilot season of Amazon Studios that launched in 2016 in the US, UK, Germany, Austria, and Japan.
His latest work is "Warm Hands".
HIDARI
Online + Venue
The film will also be screening at Omotesando Hills Space O!
Animation / Japan / 5:32 / 2023
©dwarf/Whatever/TECARAT
Stories have been told of a legendary craftsman during the Edo-era, by the name of Jingoro Hidari. Today, sculptures accredited to Jingoro can be found throughout Japan, but his very existence is yet to be confirmed. Having lost his foster parent and right arm to the betrayal of his senior apprentices, Jingoro is on a journey of revenge with a mechanical prosthetic arm and his sidekick, "Sleeping Cat." People soon came to call him Jingoro "Hidari" because of his ability to artfully use his carpentry tools with only his left arm ("hidari" means "left" in Japanese). Finally, Jingoro faces one of his adversaries "Inumaru" and the curtains rise on a fight to the death.
Director
Masashi Kawamura
Masashi is the Chief Creative Officer of Whatever Co. He has worked as a creative director at various global creative agencies, such as 180 Amsterdam, BBH New York, Wieden & Kennedy New York. He founded PARTY in 2011, and after serving as the head of its New York and Taipei studios, he moved on to start Whatever Co. in 2018. He has worked on a wide range of projects, including brand campaigns, TV programs, music videos, and more. He earned more than 100 awards around the world, including Cannes Lions, and has been chosen as one of the Creativity magazine's ""Creative 50,"" Fast Company's ""100 most creative people in business,"" and AERA magazine's ""100 people breaking out of Japan.""
AOI Film Craft Lab.
A subscription-based filmmaker training community produced by AOI Pro. Inc., which has been at the forefront of video production with creators such as director Akira Nagai ("Teiichi: Battle of Supreme High" and "Character") and director Hiroki Kazama ("silent" and "Cheer Boys!!" ) . Through AOI Film Craft Lab., we engage in education, providing people with a place to learn and opportunities to connect with the film industry. We offer practical content, including seminars and workshops led by top creators in the field, the experience of shooting commercials on set, and opportunities to produce music videos for famous artists.
AOI Film Craft Lab. SSFF & ASIA 2023 Special Contents
AOI Film Craft Lab. invites leading Japanese film directors, advertising creators, and music video creators as guests to hold practical workshops on commercial planning, basic filmmaking, and product shooting.
This time, we are pleased to present a part of the workshop held for only our members.
AOI Film Craft Lab. Short Film Festival ~Create short films in 5 hours! ~ Guest: Shinichiro Ueda (film director)" (March 6th, 2023)
Inviting film director Shinichiro Ueda as an instructor, the workshop participants were given 5 hours to plan, shoot and, edit to create a one-minute short film. Participants were divided into three teams to create short films with the theme of "Yesterday."
Shinichiro Ueda
Director Shinichiro Ueda(1984, Japan) formed his film company Panpokopina in 2019, and to date his short films have received numerous festival awards. In 2015, he made his commercial film debut with a short film, Neko manma, in an omnibus film project. With his personal slogan of "making films which will still be fun after 100 years", he continues to create films with high entertainment value. His feature debut One Cut of the Dead (2017), a micro-budget zombie comedy, had a sensational box office receipt of more than 1,000 times its budget.
Filmography
Rice and Boobs (2011), Dreaming Novelist (2011), Girlfriend's Confession Ranking (2014), Neko manma (2015), Take 8 (2015), One Cut of the Dead (2017), Aesop's Game (2019), Special Actors (2019), Popran(2022)
AOI Film Craft Lab. held a talk seminar at SSFF & ASIA 2021, "The Road to Film and CM Directors – My Message to You."
Organizer
Co-organizer
Patronage (Koen)
Translation Support
Award Project Support
Event Special Support
Support
Support