"DOOR" Theater supported by NTT QONOQ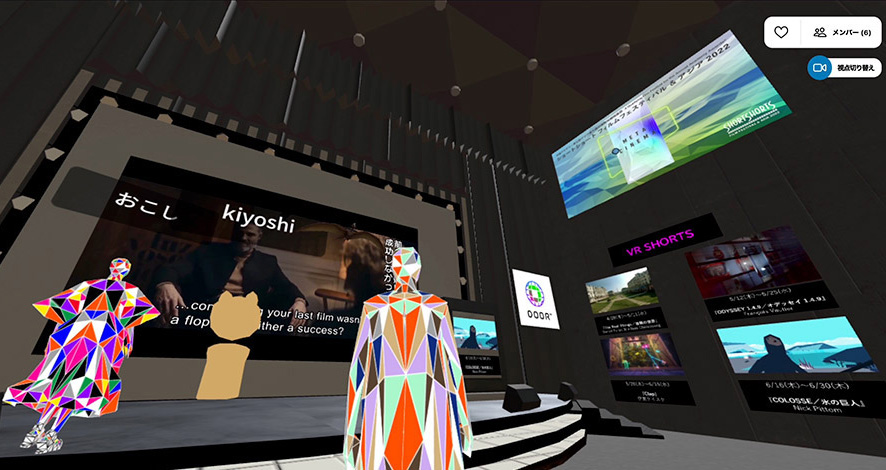 With the support of NTT QONOQ, we will open the "DOOR" Theater, supported by NTT QONOQ, and screen the world's best short films that have won awards at film festivals around the world!
This year's theme of the film festival is "UNLOCK." So please experience the "UNLOCK" film festival that is not bound by "normal" concepts at the "DOOR" Theater supported by NTT QONOQ!
A guide on how to use DOOR
https://door.ntt/web/tutorial/index.html
ompatible with various devices such as smartphones, computers, and VR devices.
* The browser does not support IE. View in Chrome/Safari/Edge.
* For iPhone, please use Safari browser.
* The "DOOR" theater will be recorded, part of it will be processed and edited, and will be released as a recorded video at the film festival and on NTT's website.
Please note.
* If you cannot enter the DOOR with your smartphone, the following may solve the problem.
・Use only one browser tab.
・Drop any apps that are running at the same time.
* Please also refer to DOOR's "Frequently Asked Questions link."
https://door.ntt/web/faq/index.html
5/18 (Thu) – 5/31 (Wedn)
Night Ride
Eirik Tveiten / Norway / Drama / 2020 / 0:15:00
Tribeca Film Festival 2022 (USA) Best Narrative Short Film
2023 Academy Awards Nominee for Best Short (Live Action)
It is a cold night in December. Ebba waits for the tram to go home, but the ride takes an unexpected turn.
6/1 (Thu) – 6/14 (Wed)
NEO PORTRAITS
GAZEBO / Japan / Sci-Fi, Drama / 2023 / 0:19:51
A story of rural Japan in the near future.
"Cutting-edge technology" and "things that haven't changed" coexist in this depopulated town. Takumi, an eighth-year junior high school student, felt it strange that the adults in his town treated the android made in his mother's image as the real thing.
However, only Hana, his homeroom teacher, was different from the other adults.
6/15 (Thu) – 6/28 (Wed)
Arka
Natko Stipanicev / Croatia / Animation / 2020 / 0:14:40
Mediterranean Film Festival Split 2020 (Croatia) Best Croatian Short Film and Best Script
Tabor Film Festival 2020 (Croatia) Best Film in Domestic Competition
Supertoon International Animation Festival 2020 (Croatia) Special Mention
Anibar International Animation Festival 2020 (Kosovo) Special Mention
Animafest Zagreb 2020 (Croatia) Best Film in Croatian Competition
Short Shorts Film Festival & Asia 2021
A grandiose transoceanic cruise ship sailing the seas.
6/29 (Thu) – 7/10 (Wed)
Cuckoo!
Jörgen Scholtens / Netherlands / Comedy / 2019 / 0:07:00
Edmonton International Film Festival (Canada) Best Lunchbox Short
Imagine Film Festival Méliès d'argent Best European Fantastic Short Film
Short Shorts Film Festival & Asia 2021
Inside a cuckoo clock lives a lonely man. Every hour he is catapulted out of his tiny house to yell 'Cuckoo!'
DOOR is a virtual reality platform operated by NTT QONOQ. As of March 2023 the service has been accessed over 8.5 million times and has accumulated over 2.2 million users.
With simple access via a browser (no dedicated app required), anyone can easily create a space or venue by using their favorite template regardless of whether they are a corporation or an individual.
It is also used as an NTT owned media, and there are examples of its use in large-scale events and in education as well as by local governments.
This service is one of the initiatives of the NTT Group's XR* service brand "NTT XR (Extended Reality)."
*XR is a general term for cutting-edge technologies such as VR (virtual reality), AR (augmented reality), and MR (mixed reality).
NTT QONOQ, INC.
Location

7F Sanno Park Tower, 11-1 Nagata-cho 2-chome, Chiyoda-ku, Tokyo

President and
Chief Executive Officer

Seiji Maruyama

HP
In October 1, 2022, we began operating as a wholly owned subsidiary of NTT DoCoMo, Inc.
For individual customers and corporate customers, using XR such as VR (virtual reality), AR (augmented reality), and MR (mixed reality), we provide various services and solutions based on our business.
Organizer
Co-organizer
Patronage (Koen)
Translation Support
Award Project Support
Event Special Support
Support
Support