The competition category takes applications from all over the world for short films showcasing the various charms of Tokyo.
Productions do not have to be filmed in Tokyo, but must include themes that make one think of Tokyo, be centered on memories of Tokyo or imagine the essence of Tokyo. 9 nominated films selected from the 244 applications from 54 countries across the world and a special production project was screened at SSFF & Asia 2017.

Best Short Award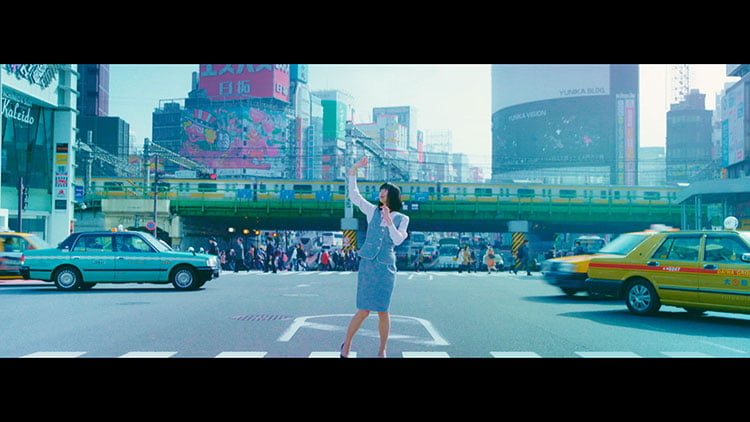 TOKYO ONDO -BEATS AND TEMPERATURES-
Shuichi Bamba / 03:37 / Japan / Fiction, Video Art / 2016
The passion & heat of Tokyo depicted by 4 girls as you've never seen before. The girls perform & synchronize to the rhythms & beats of "Neo Tokyo-Ondo."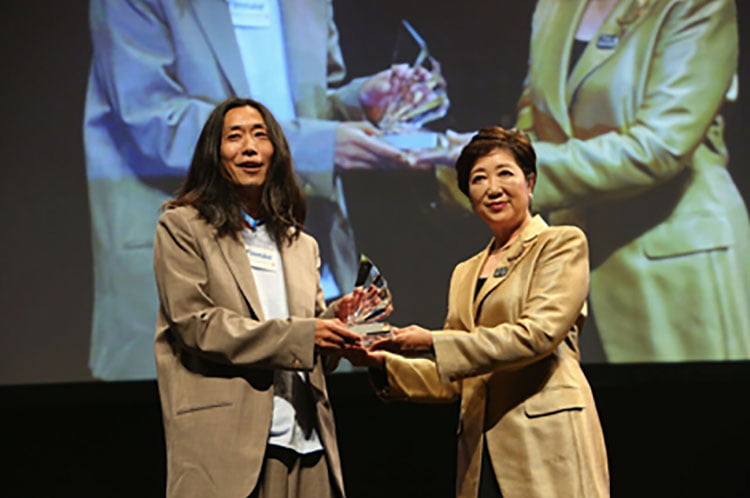 Director's comment
We worked very hard together to make this film, so I really appreciate this win. "TOKYO ONDO -BEATS AND TEMPERATURES-" is like "the hum of Tokyo."
We wondered what would happen if we made a music video using traditional dance music in modern Tokyo. While people think Tokyo is a cool city that welcomes everyone, I wanted to make Tokyo come alive and show that the city deserves an even deeper love. The warmth of people and the "heat" of Tokyo react together and make a miracle.
I want people who are interested in Tokyo, where traditional culture and pop culture exist together, to watch this film.
I've been working on making music videos and mainly shoot them in Tokyo. I had a shoot located in front of a national stadium (Kokuritsu- Kyougi-Jou) that was under construction.
Music videos can document the changes in Tokyo. For me, Tokyo is a perfect set to create stories.
Director: Shuichi Bamba
Shuichi mainly directs music videos and live concert movies. He has directed the theatrical film "BUMP OF CHICKEN "WILLPOLIS 2014," The SPITZ "Yokohama Sunset 2013," and THEE MICHELLE GUN ELEPHANT "THEE MOVIE" -LAST HEAVEN 031011- ." He makes films in music, for the web & other genres.
Nominated films in Short Shorts Film Festival & Asia 2017
Tokyo Gigantic Girls

Hiroaki Matsu / Japan / 06:17 / Fantasy / 2017

In an imaginary landscape of Tokyo, the giant girls of Tokyo are living in Shibuya, Akihabara, Odaiba….everywhere in Tokyo. This film depicts chaotic Tokyo and the impact of the "Tokyo Gigantic Girls."

The Sigh of Language

Slony Sow / Japan / 23:21 / Drama, Romance / 2016

In winter in Tokyo, a fateful encounter in front of a bright chandelier. They can't understand each other but there is a special connection between them. "What do I want to tell him…" She absorbes herself in learning French just so she can understand a voice mail he left on her phone. This story is

Super Trotter - Ep 01

Pranay Patwardhan / India / 00:48 / Animation / 2016

Each day thousands of cartoons come to the entertainment district of Akihabara. Some work here, others look for jobs, while a few live in the subway.We ride along with 'Hikishu' a vlogger and aspiring actor in the first ever episode of Super Trotter, a travel series.

Divine Hammer

Anise Lew / USA, Japan / 03:47 / Music Video / 2016

A soft and beautiful portrayal of global Girl Culture between NYC and Tokyo, bringing two friends from different sides of the world together for one magical day. An intimate look into the girls' lives and emotions, showing a simple happiness, manifested in the purest form of love between two people.

Vertige

Christophe Gautry & Mathieu Brisebras / France / 08:30 / Animation, Experimental / 2012

Sometimes, in our urban world, the system pins people to the ground with disregard. But seen under a new angle, the city becomes a new space to be rediscovered and reconstructed...

To & Kyo

Tsuneo Goda / Japan / 04:04 / Drama, Animation / 2017

Imps "To" and "Kyo" are playing tag at a nallow alley in Yanese, Tokyo. There is their home town since Tokyo was called Edo. They put a curse on strangers as playing since long time ago. Purhaps, Tokyo keep changing because of them…

The Wish

Torubarov / Japan / 07:00 / Drama / 2016

A young man's day takes an unexpected turn when a woman accidentally leaves her umbrella behind. Now it's up to him to heroically return it.

Cobblers hands in Asakusa

Daisuke Ishihara / Japan / 08:08 / Documentary / 2016

JuCo's shoes are bright & pop. These shoes are made by the worn hands of cobblers in Asakusa. We wanted to depict the warmness & personal care of handmade craftwork in the rapid manufacturing metropolis that is Tokyo with the hope that tradition & craftsmanship will continue to flourish here.

Tokyo Ondo - Beats and Temperatures

Shuichi Bamba / Japan / 03:37 / Drama, Video Art / 2016

The passion & heat of Tokyo depicted by 4 girls as you've never seen before. The girls perform & synchronize to the rhythms & beats of "Neo Tokyo-Ondo."

"Tokyo Cine-magic" a special production project

Home Away From Home

Yukinori Makabe / Japan / 12:36 / Drama / 2017

A taxi driver, a young girl and a backpacker simultaneously experience a wonderful journey in Tokyo, where they find connections to their own homes in Africa, Europe and Southeast Asia. Throughout their journey, they run into the same Japanese woman named Akiko. Meanwhile, a writer in Paris recalls her encounter with Akiko in Tokyo.